Sept 10th - 12th  2021
GSGRA-BAC 




Best Buck in the Bay
Duncans Mills, CA
With over 27 years GSGRA-BAC strives to be an active part of the LGBTQ community by hosting of fund-raising events to benefit local charities and to educate others on the Country-Western Lifestyle through Rodeo, Dance Events, and Royalty. Membership is not restricted and all who are interested are welcome to join.
GSGRA-BAC is a California 501(c)(3)  Non-Profit Organization
Due to the Covid-19 crisis, GSGRA Bay Area has chosen to postpone our annual Best Buck in the Bay Rodeo until 2021.
Rest assured that the Best Buck in the Bay that everyone looks forward to and loves, will return so please put it on your calendar for next year!
Grand Marshal 2019 - Jane Silva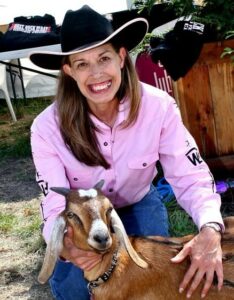 We would like to welcome our Grand Marshall for the 2019 Best Buck in the Bay.
Jane Silva was born in Germany to an Air Force family, so she moved around quite a bit growing up.  Jane was the middle child of seven, of which 3 were born with cystic fibrosis and did not survive past 18 so she learned to appreciate life early on.  Jane remembers always loving animals and horses in particular.  When most girls had many Barbie dolls, Jane had one doll and a stable of Breyer horses.Moving every year to new parts of the US due to her father's assignments, Jane learned to make friends quickly.  The family settled in Sacramento in her teen years, where she owned her first horse (without her parents' knowledge for a year!).  Jane's parents thought you had to be rich to own horses – and they were right – but rich is not always money! Jane moved to the central valley to raise her own family and settled in the Bay Area after her kids were grown.
She met Bill Lyle in 2003 at the Grand National Rodeo and found her new love…working with bulls, rodeos (and, oh yeah, Bill too).  Jane joined Bill when he was the stock contractor for the 2004 Best Buck in the Bay and loved everyone she met.  She came away with more acceptance and friends than any other straight rodeo she had been to.  Jane convinced Bill to attend Convention in San Francisco to see if they could do more, as she now felt she was an equal (or better as most of us say).  Though Jane and Bill added other IGRA rodeos to their schedule, the Best Buck in the Bay is always like coming home.  She doesn't remember how many times someone would ask shy she brought that grumpy old man with her…She just replied "Someone needed to drive the truck! On a personal note, I do remember that first rodeo working with Bill and Jane – and will never forget Commando Jane!
From GSGRA practice days at the ranch or at rodeos, she counts herself lucky to be involved with such a wonderful group.  Jane looks forward to 2020 as she develops her new path in volunteering and maybe competing at IGRA rodeos and events. GSGRA-BAC wants to say Thank You to Jane Silva for her many years of service at the Best Buck in the Bay, as well as many IGRA rodeos across the circuit.  Jane is always a pleasure to work with – never short of a smile and a hug for anyone.  We lost Bill this last December, but he lives on in our hearts and are thrilled that Jane will continue her journey with us.
Congratulations to our 2019 Grand Marshal for the Best Buck in the Bay!
Community Grand Marshall 2019 - Tomas Luzod
We would like to welcome our Community Grand Marshall for the 2019 Best Buck in the Bay.
Luis Tomas Luzod, Jr., commonly known to most as Tomas was born and raised in San Jose, CA. Has 1 son, Tommy III and 2 granddaughters, Victoria and Alexis. Tomas worked for PacBell for 27 years and for the past 18 years as a Funeral Director and Manager in the East Bay.
Tomas was introduced to the GSGRA-BAC Rodeo through some friends (Bill & Rob) only as a spectator but after a few years caught the bug and wanted to compete. He tried his luck at Bull Riding through the Bill Lyle Training Camp. After a few times, he knew that wasn't his cup of tea.  It was suggested that Chute Doggin' might be a good fit so he gave it a try!  He has been competing for a little over 10 years and has received a few ribbons in both Chute Doggin' and Calf Roping on Foot.
Tomas has the highest respect for our athletes in all that they do. First, he helps as a Buckle Sponsor and then adds his special touch by providing a Diamond, gold-plated engraved wristwatch to the winners. Tomas is also chief cook and bottle washer which we all have appreciated for many years.
Tomas was selected for his tireless dedication to ensure the success of not only the Best Buck in the Bay, but our relationships with other groups and business that support the country western lifestyle in the gay community, including Club 1220 in Walnut Creek and Sundance Saloon in San Francisco.
The Best Buck in the Bay wants to show our sincere appreciation for the tireless dedication Tomas has shown throughout the years supporting our organization.
Tomas.  Thank you.